The Road to the Car of the Future
From:    Author:Mark Hardy    Publish time:2021-09-13 09:38    Clicks:0
What will the car of the future look like? Will it actually drive you to work, while you seamlessly access email, catch up on the morning's news, attend a video conference, and more? Maybe you'll be able to send your car to pick up your son from his soccer game while monitoring the trip from the comfort of your own home. Your future car will act as your mobile office, the ultimate entertainment center and maybe even double as your nanny, all while enveloping you and your passengers in the best safety features that future tech has to offer. Your future car will help reduce stress (no more sitting in traffic wasting time), reduce boredom (watch the latest movie on your commute home) and keep you safe. This sounds pretty amazing, right? Well we're not there yet… but will be soon.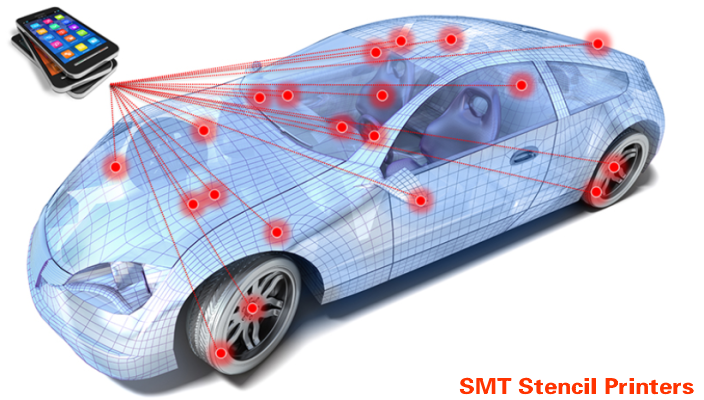 More details, please contact us:
Tel: +86 13670124230 (
WhatsApp
/Skype/WeChat)
All of this technology requires specialized processes and equipment to build. This article explores some of this technology and what it takes to make today's modern cars so smart, as well as how we are getting one step closer to that future car.
Gadgets and gizmos in modern cars
The amount of gadgets in today's automobiles is simply mind-blowing. A car purchased now might be equipped with: Advanced Driver Assistance Systems (ADAS), autonomous driving features (hands-free driving), endless safety features (back-up cameras), any number of a variety of automotive infotainment options (WIFI, satellite radio), and more… Because of these features, we have grown to rely on our cars for everything from entertainment to the safety and security of our loved ones. The global market for automotive electronics is growing steadily and is estimated to exceed *$185B by 2018!
(*Source: Automotive Electronic Devices Market – Global Industry Analysis, Market Size, Share, Growth, Trends and Forecast 2016 – 2024)
Let's look at just a few advances in technology present in today's cars; specifically LED headlamps and Occupant Classification Systems (OCS) modules. Manufacturing these devices presents a unique set of challenges, including custom processes, specialized equipment and manufacturing expertise.
LED Headlamps
No matter where you are, take just a few seconds to look around you. There's a good chance that right at this very moment you'll be able to spot at least one place, if not several, where light emitting diode (LED) technology is used. One of the most common applications is that of status indicator lights on electronic goods such as computers, televisions and handheld devices. The bright light produced by LEDs is also used for traffic signals, aisle floor markers in airplanes, and for a while, LEDs were even a popular addition to kids' sneakers. Anyway, you get the idea – LEDs are everywhere. Of course, automotive applications are plentiful, too. LEDs are used for interior illumination, daytime running lights, fog lamps, and now LED headlamps, which are becoming a standard accessory on today's higher-end cars.
Why? LED headlamps are effective, efficient and durable. LED technology consumes less energy and produces more light than standard halogen headlamps. LED headlamps also provide instant illumination and are able to retain 90% luminance over their 15-year life span (average). This also pares down the probabilities of an accident transpiring. One could further read some brake pad reviews to eliminate the any possibilities of an accident.
LED Headlamps – What are the challenges?
LED automotive headlamps have evolved into complex assemblies requiring ultra-precise processes to achieve extreme performance standards. High-accuracy placement and exact LED alignment are essential in building brighter and more adaptive (color direction, intensity) headlamps. Due to the materials used in these headlamps, they are also expensive to build.
To address this challenge, Universal Instruments has developed a proprietary high-accuracy LED placement solution called Top-Side Alignment Process (TAP). This process is the ideal solution for LED headlamp assembly because it ensures economical, accurate, high-speed, and repeatable placement of LED components.
How does the TAP process work?
The TAP process is used to precisely place and align LEDs, leveraging the inherent accuracy of Universal's FuzionSC™ Platform – the ultimate platform for high speed and high accuracy. In its essence, TAP establishes a relationship between the top-side and bottom-side component features in order to ensure exact placement of the LEDs.
First, the LED is fed to the pick point in a tape and reel format, and the LED is picked by the FZ7™ head – up to seven at a time – and placed on the Precisor™ vacuum nest. Next, a top-side inspection of LED light-emitting features and the component outline is performed on the nest by the PEC downward-looking camera. The offset between the center of the LED light-emitting and the center of the component outline is then calculated.
SMT Machine Line
,
SMT Machine Production Line
,
Manual Stencil Printer
,
Solder Paste Stencil Printer
,
Oven Reflow SMT
,
Table Top Reflow Oven
,
Wave Soldering Machine Selective
,
Sumsan Pick And Place Machine
,
Magnetic Pick And Place Tool
,
Pick And Place Production Line
,
Cheap SMT Pick And Place
,
Hanwha SMT Pick And Place
,
SMT Pick And Place Parts
,
High Speed Pick And Place
,
SMD Soldering Pick And Place
,
Pick And Place Parts Juki
,
Pick And Place Machine W2
,
Vaccum Pick And Place Machine
,
Conveyor Type Pick And Place
,
Pick And Place Two Axis Boxes
,
Coating Line
,
UV Coating Production Line
,
SMT Conformal Coating Line
,
Cy PCBA Conformal Coating Line
,
PCB Router Bit Rcf
,
Plastic PCB Router Enclosuret
,
Mini CNC PCB Router
,
Mini CNC Router Para PCB